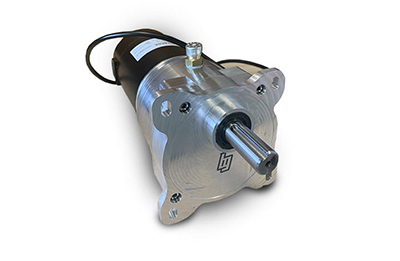 BEGE GA Serie – DC Helical Gear Motors
Cost effective and reliable. The NEMA/IEC DC Helical gear motor is a brushed or brushless DC motor with integral aluminum gearbox.

With the brushed motor users benefit of a low cost and simplefied design, while offering versatility and reliability.

The DC gear motor is specifically designed for the North-American market with an 5/8" shaft, but can also be modified according to specific requirements or European standards. We offer a motor that is easily interchangeable with any current DC gear motor.

Also, the NEMA/IEC DC helical gear motor is specially designed and manufactured in The Netherlands and conforms to the highest industrial quality standards.
NEMA/IEC DC Helical Gear Motors: features & benefits
Can be supplied with NEMA or IEC dimensional standards
Available with various power, output speeds and supply voltage
Customizable upon request
Easily interchangeable with your current DC gear motor
Flanged gearbox mounting for easy assembly in any application
Cost effective
In compliance with high industrial quality standards
Technical specifications & more info
Technical specifications
Ratio
5:1
Diff. ratio's on request

Output speed (rpm)
500
Diff. speed on request

Nominal torque (Nm)
2,5

Max. torque (Nm)
-0

Motor
IEC DC-Motor

Power range (W)
150
Diff. power on request

Voltage/frequency
24V
12V
48V
180V
Diff. voltage on request

Protection class
IP55

Material
Aluminium

Lubrication
ISO VG220 mineral oil

Lifetime (L10h)
> 15.000

Certificates
CE, UL/CSA

Variations
IEC Motor size
IEC56

Mounting executions
Foot-mounted
Flange-mounted

Output shaft diameter (inch)
5/8"
Diff. dimensions on request

Coating / color
According to ISO 12944
RAL7031

Optional features
MIG encoder for smart drives
PTC thermistor
Bimetal temperature switch
Brake-motors
Standard AC-Motors
Pole-changing-motors
ATEX-motors
DC-motors
Special voltage / frequency
Increased protection
Reinforced output shaft bearing
Stainless steel output shaft
Forced ventilation
Repair & Maintenance
Is a current component or drive system in need of maintenance or repair? BEGE has extensive knowledge of a wide variety of drives and systems. We guarantee a rapid resumption of operational procedures.
Your Reliable Partner in Drive Solutions
We make life easier for industrial enterprises by creating, optimizing and maintaining high-quality drives.