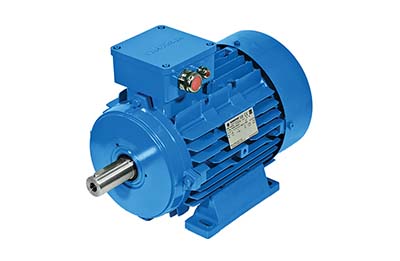 Končar H5AZ/H7AZ Serie – 3-phase IE3 AC Motors
Reliable and energy efficient. The 3-phase IE3 AC motors from Končar are characterized by their low noise, low vibration, high efficiency and nearly 100% recyclability. The high-efficiency technology makes these motors suitable for demanding applications in industry and shipbuilding.

Due to their reliability and low maintenance requirements, they contribute to a higher availability of machines and systems. Thanks to their modular design, these three-phase motors can be fully adapted to specific requirements and needs.
H5AZ/H7AZ Serie – 3-phase IE3 AC Motors: main features
Lower energy consumption which leads to reducing energy costs
Lower vibration levels i.e. lower noise
Higher reliability and easy maintenance
Lower cost of ownership
Conservation of natural resources
Optimised ventilation system with internal and external cooling
High Quality Engineering
Strict Material Selection
Standard Quality Control
High Efficiency Technology
IE3 Premium Efficiency
Future-Proof
Consume Less Energy
Reduce CO2 Emissions
IEC Standard Size
Worldwide Standard
Broadly Applicable
Standard IEC Dimensions
Technical specifications & more info
Technical specifications
Motor
3-phase IEC IE3 AC-motor

Power range (kW)
0,75 - 200

Poles (#)
2, 4, 6

Speed (rpm)
3.000, 1.500, 1.000

Voltage/frequency
230 / 400V - 50Hz
400/690V - 50 Hz

Efficiency class
IE3

Protection class
Standard IP55, max. IP66

Motor protection
Optional

Isolation class
F

Material
Aluminium
Cast iron

Certificates
CE, UL/CSA, ATEX

Variations
IEC Motor size
IEC80 - 315

Motor contruction type
B3, B5, B14A/B, B34 & B35

Output shaft diameter (mm)
19 - 80

Coating / color
According to ISO 12944
RAL7030

Optional features
MIG encoder
Special voltage/frequency
PTC thermistor
Two shaft free ends (on DE and on NDE)
Isolation class H
Special flanges and shaft ends
Flange mounting motors with flange and shaft extension according to NEMA
Terminal box on right or left side
Other colours/coatings
Fan cover with protection from rainfall and textile fibre
Cooling types (IC410, IC416, IC418)
Winding for tropical environment
Winding heaters
Condensation drain holes
Roller bearings
Regreasing facility
Marine design
Forced ventilation (cooling type IC416)
Brake
Repair & Maintenance
Is a current component or drive system in need of maintenance or repair? BEGE has extensive knowledge of a wide variety of drives and systems. We guarantee a rapid resumption of operational procedures.
Your Reliable Partner in Drive Solutions
We make life easier for industrial enterprises by creating, optimizing and maintaining high-quality drives.